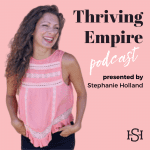 A community that inspires, empowers and supports you is fundamental to your startup trajectory. In this episode we talk about how to consciously curate a community that so you have another strategy for building momentum around your ideas.
Building on the last episode where we talked about your romantic relationship, we will talk about:
Your friends.

Your family.

Your startup community. Real & virtual.

Your teachers & mentors. In person and online.
Community will inspire you, push you forward, and pick you up when you need it most, because the power of collective wisdom is so much more than the sum of its parts.
###
Grab your copy of my brand new Podcast Study Pack, the ultimate multi-media toolkit for taking extraordinary care of your most important business asset. It comes with a copy of the book, the audio book and a worksheet for every episode, as well as tons of resources I don't share anywhere else!
[divider style="0″]
LISTEN TO THE SHOW:
ALSO LISTEN ON: Stitcher | iTunes | Spotify
[divider style="0″]
WHAT YOU'LL LEARN:
Simple questions that help you audit your existing community
How to get your most important, high-interest investors onboard with your startup vision
The two kinds of 'teachers & mentors' you should have in your community recipe
[divider style="0″]
DOWNLOAD THE TRANSCRIPT:
[button_1 text="DOWNLOAD%20NOW%20%3E%3E" text_size="20″ text_color="#ffffff" text_font="Montserrat;google" text_bold="Y" text_letter_spacing="0″ subtext_panel="Y" subtext="No%20signup%20needed!" subtext_size="15″ subtext_color="#ffffff" subtext_letter_spacing="0″ text_shadow_panel="N" styling_width="40″ styling_height="15″ styling_border_color="#4d99ab" styling_border_size="1″ styling_border_radius="0″ styling_border_opacity="100″ styling_gradient_start_color="#4d99ab" styling_gradient_end_color="#4d99ab" drop_shadow_panel="N" inset_shadow_panel="N" align="left" href="https://drive.google.com/file/d/1MNxOywM0E6u2AJUX2HYpFbZGpRwWHLgL/view?usp=sharing" new_window="Y"/]
[divider style="0″]
MENTIONED ON THE SHOW:
Find out more about The 7-Day Visionary Leadership Challenge coming up! We do it live 3 times a year!
Revisit episode 20 to smash through your glass bubbles!
Revisit episode 3 about extreme focus!
See how Unroll.me can help you manage your inbox effortlessly.
Grab your copy of the Podcast Study Pack to dive deep into your Freedom Business strategy!
[divider style="0″]
Photo by Priscilla Du Preez on Unsplash
[divider style="0″]