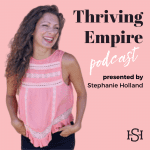 You've probably read Think And Grow Rich by Napoleon Hill, or The Science Of Getting Rich by Wallace Wattles, or a similar mindset guide to generating wealth, but have you really put it into practice? If not, this episode is for you!
We dive deep into why it's so important to consciously cultivate your thoughts and become more aware of your thinking. 
Many of the revolutionary thinkers and writers of our time — Deepak Chopra, Marianne Williamson, Louise Hay, Annette Noontil, Jiddu Krishnamurti, Osho, Yogi Bhajan, to name a few — have much to say about the power of our thoughts to bring about unimaginable transformation on all levels.
But why are so many people on this bandwagon? Because they know — without a shadow of a doubt — that we are all deliberate creators, capable of bringing into being that which we think.
Whether our thoughts are positive or negative, we are using them to create our reality 24/7.
So we may as well use our thinking as the currency for our success.
###
Grab your copy of my brand new Podcast Study Pack, the ultimate multi-media toolkit for taking extraordinary care of your most important business asset. It comes with a copy of the book, the audio book and a worksheet for every episode, as well as tons of resources I don't share anywhere else!
[divider style="0″]
LISTEN TO THE SHOW:
ALSO LISTEN ON: Stitcher | iTunes | Spotify
[divider style="0″]
WHAT YOU'LL LEARN:
How to think of your thoughts as a strategy for success
The 4 steps of your 'thought strategy'
Why most people quit and the final step that keeps you in the game
[divider style="0″]
GET THE FULL EPISODE TRANSCRIPT:
[button_1 text="DOWNLOAD%20THE%20TRANSCRIPT%20%3E%3E" text_size="20″ text_color="#FFFFFF" text_italic="Y" text_letter_spacing="0″ subtext_panel="Y" subtext="(No%20signup%20required!)" subtext_size="14″ subtext_color="#ffffff" subtext_letter_spacing="0″ text_shadow_panel="N" styling_width="40″ styling_height="20″ styling_border_color="#00f2c9″ styling_border_size="1″ styling_border_radius="0″ styling_border_opacity="100″ styling_gradient_start_color="#00f2c9″ styling_gradient_end_color="#00f2c9″ drop_shadow_panel="N" inset_shadow_panel="N" align="left" href="https://drive.google.com/file/d/1ip0KYWT-nxcGc_oZQW-hyHxvMhE7YOZR/view?usp=sharing" new_window="Y"/]
[divider style="0″]
MENTIONED ON THE SHOW:
Grab your copy of the Podcast Study Pack to dive deep into your Freedom Business strategy!
[divider style="0″]
[divider style="0″]