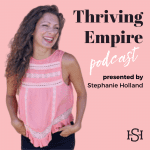 If you're building a career you love and you're ready to ditch the office in favour of more freedom and flexibility, you're in luck. 
Working remotely is the fastest growing work style on the planet, so if you're a highly skilled human with a strong work ethic, you already have thousands of opportunities at your fingertips. It's the perfect time to find a remote job.
Hundreds of companies are scouring the globe for your expertise, right now. And not just across tech and marketing, across all industries, skill sets and levels of experience.
So if you're ready to ditch the office and the clutches of the commute, you're gonna love Season 3 of my podcast: Thriving Empire. 
You're going to learn how to get a remote job, including:
What kinds of jobs are out there, and where to look for them

What to expect as a remote worker, and how to position yourself as the ideal remote candidate

How to navigate the application process & prepare for remote interviews
… and more. 
So if you've heard of remote jobs but haven't yet been able to prove their existence, you're gonna LOVE this season. I'm your host, Stephanie Holland, and I've been working remotely since 2004, both as full-time employee and independent contractor. I've learned so much and I'm so excited to share it with you.
So, here's what you need to do. Subscribe to my podcast — Thriving Empire — on iTunes or wherever you listen to podcasts, and subscribe to my list at stephanieholland.co so you never miss an episode. Finding a legitimate, high-paid remote job is NOT a pipe dream, or a Unicorn. It's a beautiful reality and your ticket to more flexibility & freedom in your life.
Get the Podcast Study Pack 3 and receive a worksheet, guide or checklist workbook for every episode, so you can make your remote career & transition a reality ASAP.
Subscribe to the podcast on Apple, or anywhere else you listen to podcasts.
Follow me on IGTV, @StephTHolland or YouTube for the latest updates.
If you haven't already, please rate and review the podcast on Apple Podcasts!
Photo by Candice Picard on Unsplash