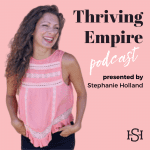 If you have a multi-million income goal for your business, then you might just be squeezing 'freedom' out of your life and work.
Our income, profit and revenue goals impact our business model, planning and strategy, — and how we show up for our work — so if they are not TRUE goals linked to what we really want, even achieving them will leave us dissatisfied.
(And likely overwhelmed and burned out.)
In this episode we explore the strategic imperative of creating TRUE income goals so you can prioritise a freedom life right now.
Grab your copy of my brand new Podcast Study Pack, the ultimate multi-media toolkit for taking extraordinary care of your most important business asset. It comes with a copy of the book, the audio book and a worksheet for every episode, as well as tons of resources I don't share anywhere else!
[divider style="0″]
LISTEN TO THE SHOW:
ALSO LISTEN ON: Stitcher | iTunes | Spotify
[divider style="0″]
WHAT YOU'LL LEARN:
Why high income, profit & revenue goals inhibit our ability to create a freedom business from the outset
3 ways multi-million goals can derail you
How to create a TRUE income goal that enables you to make as much money as you want
[divider style="0″]
GET THE FULL EPISODE TRANSCRIPT:
[button_1 text="DOWNLOAD%20THE%20TRANSCRIPT%20%3E%3E" text_size="20″ text_color="#FFFFFF" text_italic="Y" text_letter_spacing="0″ subtext_panel="Y" subtext="(No%20signup%20required!)" subtext_size="14″ subtext_color="#ffffff" subtext_letter_spacing="0″ text_shadow_panel="N" styling_width="40″ styling_height="20″ styling_border_color="#00f2c9″ styling_border_size="1″ styling_border_radius="0″ styling_border_opacity="100″ styling_gradient_start_color="#00f2c9″ styling_gradient_end_color="#00f2c9″ drop_shadow_panel="N" inset_shadow_panel="N" align="left" href="https://drive.google.com/file/d/1n_fvSRRVUvbr3S9Rz8GGu1lfFpLGl-3E/view?usp=sharing" new_window="Y"/]
[divider style="0″]
MENTIONED ON THE SHOW:
Grab your copy of the Podcast Study Pack to dive deep into your Freedom Business strategy!
Check out Ep 3: Extreme Focus
[divider style="0″]
Photo by Amos Bar-Zeev on Unsplash
[divider style="0″]